What is Studiomates?
After six years of teaching 17 online art classes with 70,000 students from around the world, I've finally realized the glaring missing element from online art education. The studio. And more specifically—the studiomates.
Here in Might Could Studiomates, you'll join a creative community of artists exploring and discovering their artistic styles and passion projects. You'll find help with creativity problems, stumble onto inspiration, share experiences, and make friends.
This space is for those who want to make, share, and grow our art together. This is your studio. These are your studiomates.
---
What's Inside the Community?

Studiomates is a community and learning space that aims to help you develop a more open and creative mindset, discover their artistic style, explore new techniques, and incubate artistic projects, all in a nurturing environment surrounded by a supportive creative community.
Let's learn and grow together!
---
Find help at all stages of
the Artistic Journey:


1. Budding Artist
The budding artist is learning to claim the title "artist" while trying to grow and improve their skills. They have developed hard beliefs about what is good art and bad art and are driven by their inner critic.
2. Compassionate Artist
The compassionate artist is learning how to let go and be present with their art. They try to focus on the process and not judge the outcome. This allows them to start to relax and begin having fun with their art.
3. Exploring Artist
The exploring artist is experimenting with their art, playing with different ways of drawing and finding what feels good. They don't judge their work, but do observe it closely.
4. Producing Artist
The producing artist has found their unique and enjoyable style, although it's always evolving. They notice and follow what bubbles up in their work, transforming their curiosity into completed art projects.
All in a nurturing environment surrounded by a supportive creative community.
---
Why Did We Create Studiomates?
In 2014, everything changed for me. That was the year I switched from graphic design to illustration, and it led to a drastic cut to my monthly income. I was trying to find my style and confidence as an illustrator, and that's not an easy process. I was plagued by all the usual issues: fear of the blank page, disappointment in my work, fear of what others would think, and frustrated that I couldn't make art that felt like me.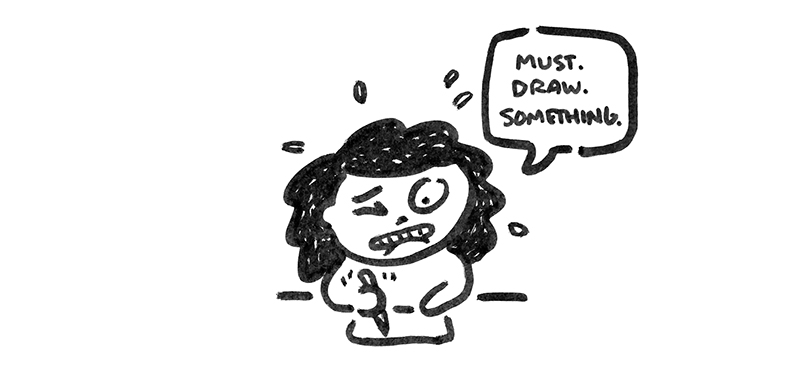 I hate being dependent on other people, so the lack of paying gigs and financial trouble led me to get a part-time job at a local grocery store. I had applied to be a cake decorator—hey, that's creative, right?—but instead was hired as a bakery worker, where I was paid $7/hr to move boxes full of frozen bread from the top shelves in the freezer to thaw out overnight. Why they thought it best to hire a 5-foot girl with a design degree who wanted to be a cake decorator for this job, I'll never know.
That year I spent my days trying to learn how to draw in my own way (and wallowing/crying on the couch), and spent my nights moving boxes of heavy bread in a freezer (and mopping the gross bakery floor), and spent all my time feeling like a complete failure.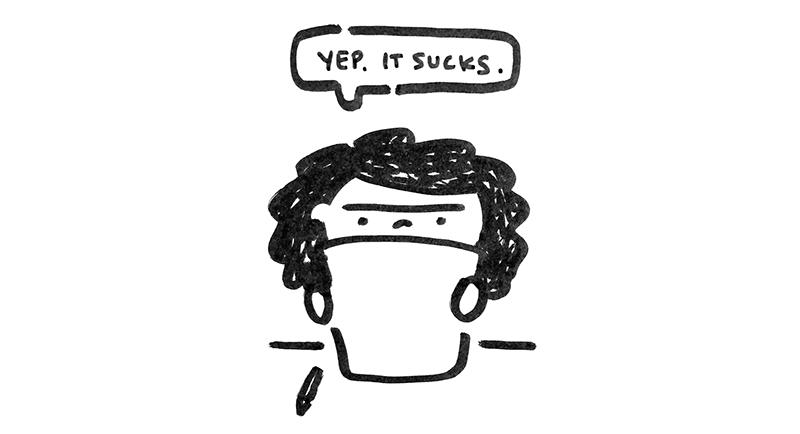 Somehow, I kept going, and eventually, after a year of exploring and experimenting, deep thinking, lots of crying, and intensive sketchbooking, I began to find my artistic voice. Around that time, a science blog took a chance on me as their Artist-in-Residence, and things finally started falling into place.
Every year since has seen more growth, more confidence, and more fulfillment in my life as an artist. And that's where you come in!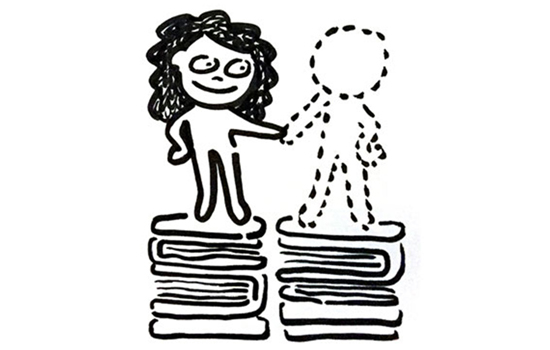 A Community of Encouragement and Exploration
Might Could Studios is a place of creative exploration and motivation, both for myself and others. I realized during my struggles in 2014, that most people (including me at the time) focus on the wrong things when we're trying to figure out who we are as artists and how to make the art that feels like us.
That period is by far the most frustrating period of an artist's journey. You have this creative fuel inside you, and a drive to make art, but when you make something you are so unhappy and disappointed in what you made that you don't want to make anything else!  
During this period, I think we're too focused on how to draw things "correctly". Drawing things accurately or realistically is certainly one way to draw, but it's not the only way. I believe a more intuitive, open, and creative way of drawing exists, one that is totally unique to each person. And I believe everyone has that unique style inside them, not just people who went to art school or make a living as an artist.

The year of 2014 was a terrible year for me, and although struggle is required for most good things, I want to help reduce the amount of pain for other people so they don't have to wallow on their couch in an existential artistic crisis for an entire year like I did.
I want to equip them with helpful tools, a more playful attitude, and an encouraging community of fellow artists so we can all continue to experiment and grow together and overall just make more art. 
And all of this comes together om Might Could Studiomates! No one should have to go through these artistic obstacles by themselves. We need other artists right beside us—to help us get up when we fall down and to give us encouraging words when we're wallowing in self doubt. Come join Might Could Studiomates and be that supportive voice during your good times and let us support you in your times of need.
---
Got questions?
Contact us at howdy@mightcouldstudios.com